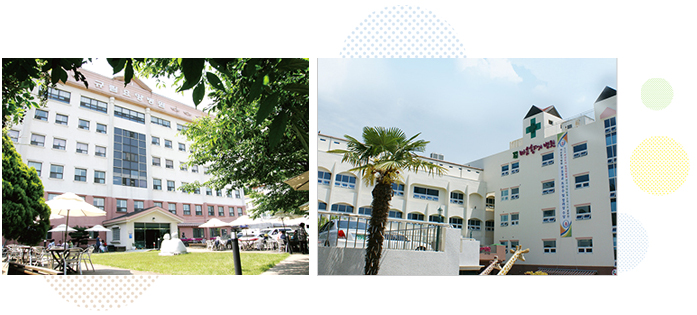 The Youngpa Medical Foundation(YPMF) is one of the most famous medical health foundations in Busan Korea that was founded in 1953.
The YPMF incoporates the 299-bed MaUmHwanGi Hospital(MUHG), one of Busan's largest mental hospitals; the 245-bed GyuRim Geriatics Hospital(GRGH), one of the nation's first hospitals for the elderly and the Jungpa Institute of Human Services Research(JIHSR), which has partnership with the Center for Human Services Research State University of New York, Albany to work collaboratively toward a common goal that of research and developing the human services programs.

He YPMF Hospitals utilizes a "patient-centered" approach to healthcare. Based on the belief that well-informed patients and families are vital members of the healthcare team, "patient-centered care" supports the Medical Hospital's personalized humanistic approach to caring. In particular, the primary care physicians of YPMF Primary Care Network really look at the pateints as a whole, and they have the knowledge to deal with a multitude of problems. If the need arises, YPMF staffs have immediat access to the specialists and full range of services offered by YPMF

Furthermore, motivated by our mission to better serve the South Ease region of Korea, YPMF actively participates in a variety of health education, screening, and continuing medical education programs. Many of our efforts serves as an invitaion to other healthcare providers to join us in exploring new ways to improve the health of the region we serve.

GRGH provides inpatient psychiatric treatment and rehabilitaion to patients who have been diagnosed with serious and persistent mental illnesses and for whom brief or short-term treatment in a community hospital mental health unit has been unable to provide symptom stability.

GRGH has outpatient treatment services for adolescents and adults.
GRGH also operates an adolescent day-treatment programs.

Day Hospital Program(DHP)

The DHP provides care to client during their transition from hospital care to community care. In some cases, the DHP provides an alternative to inpatient care. The program offers clients individualized treatment plans that helps to restore their mental health and wellnesse. Individual treatment plans are developedto meet the needs of both adults and adolescent clents. A variety of group and individual interventions are provided.

Rehabilitation

Rehabilitation Services are provided by a team of health care professionals that includes physicians specializing in rehabilitation medicine , nurses, physical therapists, occupational therapists, social workers and case managers. Each patient receives an individualized program or group program designed to help improve his/her level of function. The Rehailitation Unit is fully accredited by National Health Insurance(NHI), Korea Clinical Pathology : The clinical pathology laboratory delivers a comprehensive diagnosis, incorporating clinical, and diagnostic findings, in a short time, at reasonal costs.

Community Medical Education(CME)

The Community Medical Education activities of MHH are designed to meet both institutional requirements and individual physician needs for CME. Formats for the activities include lecture series, grand rounds, teaching roundsm departmental scientific meetings, seminars, workshops, and clinical traineeships.

Social Work

Department of social work focuses on the social and emotional components of hospitalization and illness, Through special counseling sessions, the staff can help you and your family adapt to illness, diability, or loss.